Our activity
We are at your service
Since starting out, Zona Franca has offered companies a production location with competitive conditions and a long list of high-quality services, comprising the industrial park, our business parks and urban buildings. While the main focus of our business is the management and administration of Industrial Park assets in the Zona Franca and Zona Franca Aduanera (Customs Free Zone), our business model extends to a wide range of activities: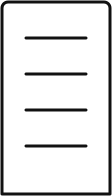 Basic activity of the Zona Franca
Industrial Park
Zona Franca Aduanera
DFactory Barcelona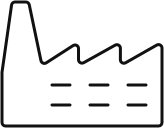 Business venues outside the basic area of operation
Business parks
Service centres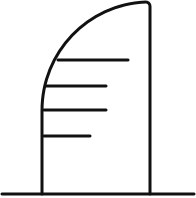 Urban projects
Stand-alone buildings
Homes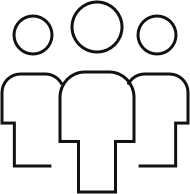 Meeting Rooms and Events
Secure spaces
For companies, the highlights of our services are the proper implementation of security procedures in the communal areas that we manage. Our leadership on self-protection, security, cybersecurity and our ongoing collaboration with State forces and agencies secures us one of the most competitive positions in the country. In 2019, the Zona Franca's security department participated in programmes with Spain's National Police, Guardia Civil, Mossos d'Esquadra (Catalonia police) and the Catalonia Regional Government's Ministry of the Interior:
Activation of emergency plans
Regular operations
Support programmes between public and private security
In addition, we have made significant investments to ensure that our Security Centre works 24/7:
Mobile fleet that patrols our properties
Remote monitoring of our properties
Video surveillance and control of our access points
In this area, one of the biggest investments in 2019 was the Project ZF 2020: an intelligent advance warning system for vehicles in the access routes and perimeter of the Zona Franca, to be coordinated with the security forces and organisations.
We are the first to offer a public cardiac protection service, in which we installed more defibrillators in 2019 and have offered more training in basic first aid.
Since 2019, all spaces and vehicles managed by the Zona Franca offer cardiac protection
Economic impact
The Zona Franca Consortium, a driving force for the economy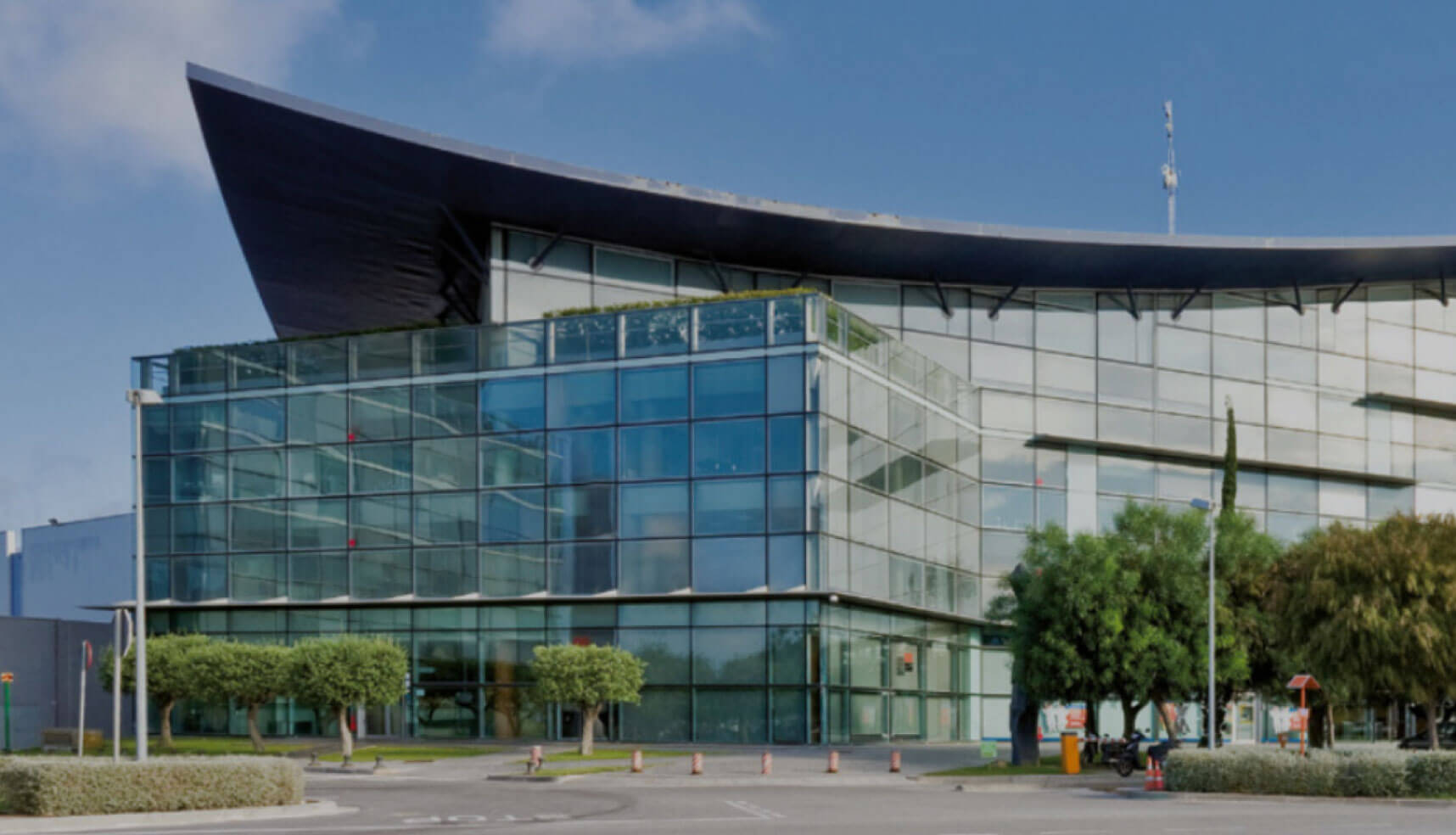 We boost the economy of the metropolitan area while enhancing the international profile of Barcelona, Catalonia and Spain within the logistics, property, trade fair and business sectors.
We lead spaces for manufacturing development and technology transfer.
We apply innovation to make progress on sustainability and economy 4.0.
We collaborate with key economic stakeholders and with social and humanitarian organisations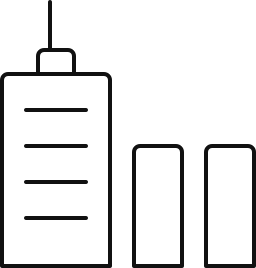 175 companies
113 in the ZF Industrial Park
38 in the ZF Customs Zone
24 in ZF spaces
The study "Economic impact of the activity of the Free Zone Consortium in Barcelona", prepared by Deloitte using data from 2018, demonstrates the organisation's value as a strategic asset for Barcelona and a genuine economic driver for Catalonia.
Contribution to GDP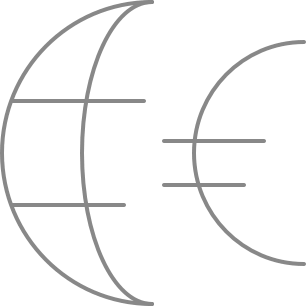 Barcelona Zona Franca Consortium:
30.6 million Euros contributed to GDP
Companies located in the basic area of activity
9.081 million Euros contributed to GDP
9.112 millones equivalent to:
11% GDP of the Province of Barcelona
3.8% GDP of Catalonia
0.7% GDP of Spain
Job maintenance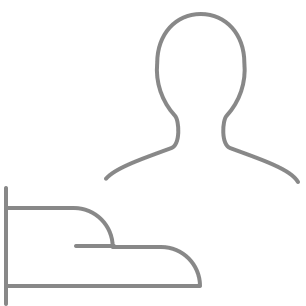 The activity of the Zona Franca and of the companies located in its main area of operation contribute to a total of 137.322 jobs.
5% of the province of Barcelona workforce
3.5% of the workforce of Catalonia
0.6% of the workforce of Spain
Tax revenue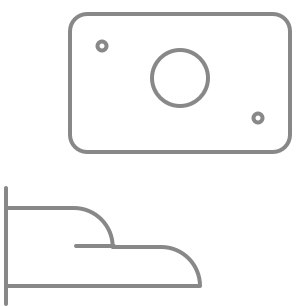 2.684 million Euros in tax returns in Catalonia. Every Euro spent in the Zona Franca generates tax revenue of 0.31 Euros.
708 million Euros in VAT
455 million Euros in Corporation Tax
1.520 million Euros in Income Tax
Companies with the biggest economic impact:
Automotive 63% of the total expenditure by companies –
Principally due to the activity of SEAT and Nissan
Chemical industry: 20% of the total expenditure by companies
Principally due to the activity of BASF and Quimidroga
Logistics: 4% of the total expenditure by companies
Principally due to the activity of Schenker Logistics
Key activities
A place that gains and contributes to gaining value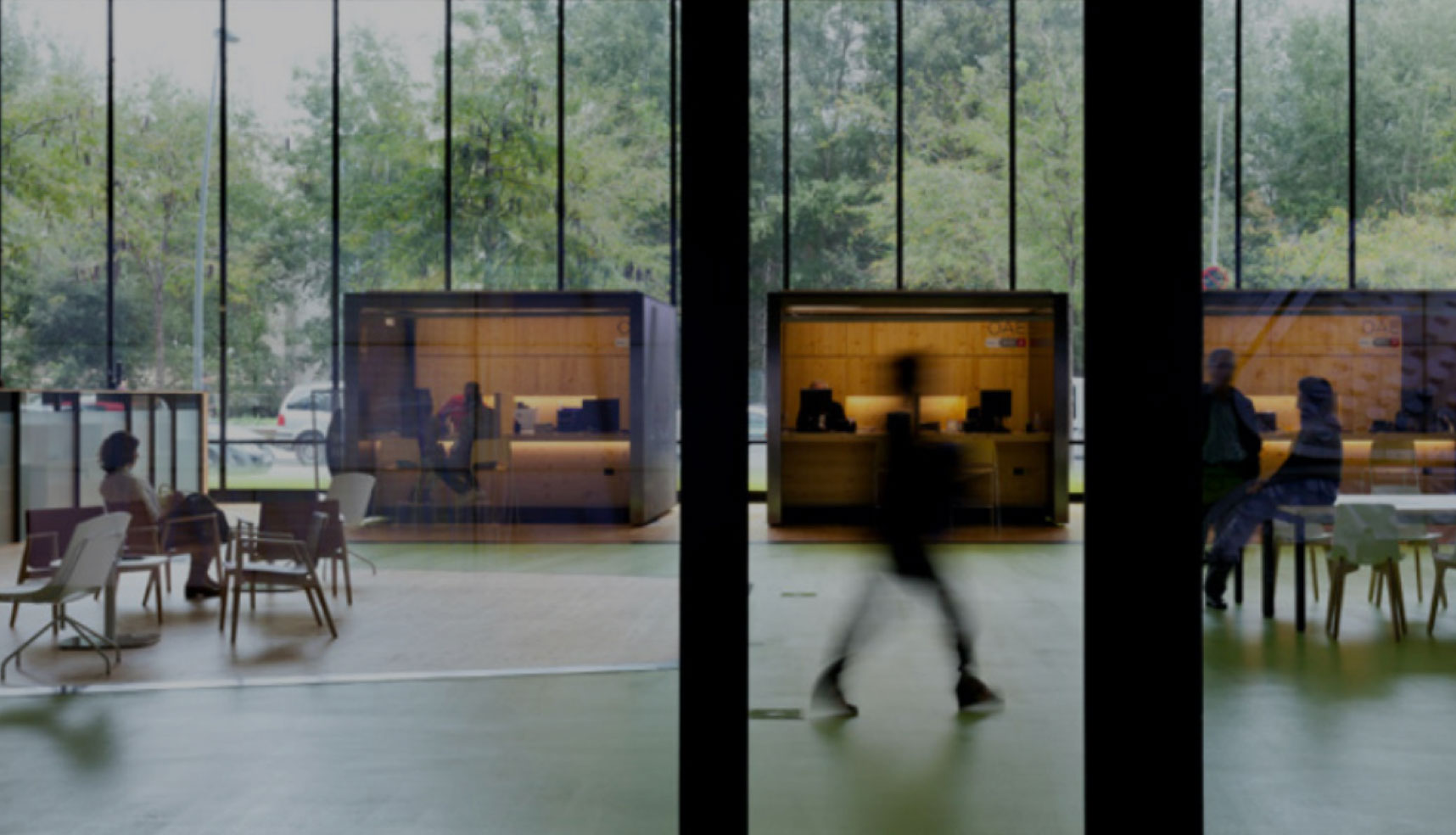 Zona Franca industrial park, a place that gains and contributes to gaining value
With 145 companies, many of which are multinationals, the Industrial Park of the Zona Franca is one of Spain's largest industrial areas and one of the foremost geostrategic elements for Barcelona and Catalonia.
Our commercial dynamism, the flexibility of rental conditions and the renovation of spaces marked 2019 as a year in which the attraction of the Free Zone multiplied.
We are the natural gateway to the EU for third countries.
A natural geographic and cultural bridge to north Africa and Latin America.
The key to Barcelona's economic potential.
An area offering companies a multitude of places in which to gain value
4,7

mill.

m2 total area

3,6

mill.

of commercial premises
Spaces
Food Industry building

Industrial premises with specific requirements
Zona Franca Aduanera, strategic and distinctive
The Barcelona Zona Franca Aduanera (Customs Free Zone) plays a strategic and key role in the Zona Franca's historic business. Its magnificent location next to the port, airport, goods rail station and road network gives the ZFA an advantageous position in terms of logistics.
The Zona Franca Aduanera is a member of the World Free Zones Organization (WFZO) and the Association of Free Zones of the Americas (AZFA), among others.
In 2019, we looked into extending its main site to house advanced economic activities that could make the manufacturing sectors that operate there become more modern. These companies would benefit from its special framework: exemption from import duties, domestic taxes and trade policy measures.
27

resident companies

86000

m2 of wharehouses

3000

m2 of lockups

9000

m2 of offices

160000

m2 area
Guardia Civil police presence (Fiscal Protection)
Business Parks, transforming the land
The Zona Franca has been leading the modernisation of a large number of industrial areas in Catalonia, particularly in the metropolitan area of Barcelona. In total, there are more than 9,700,000 m2 of industrial premises in various phases of development.
Purchasing land, transforming it and then making it available for sale is another value-generating activity for us.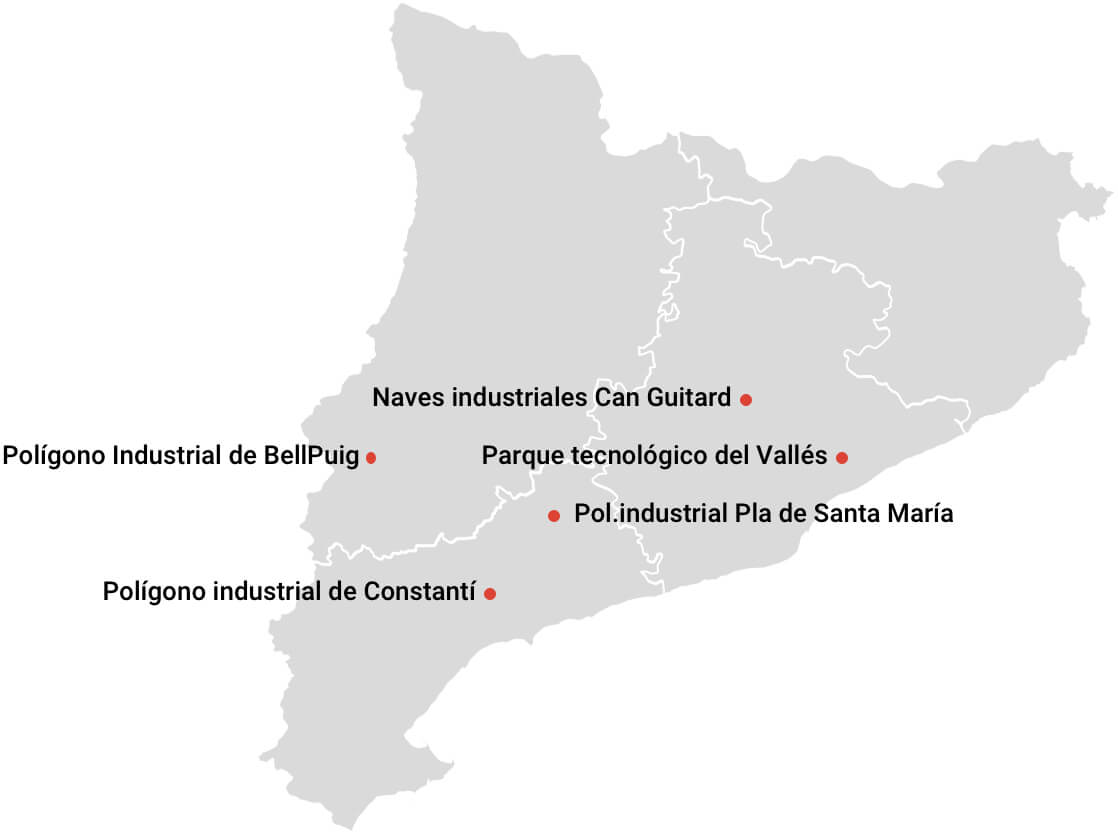 Spaces
Constantí Industrial Park

Within a 5 km radius of the Constantí Industrial Park are Reus airport (next to the park), the port of Tarragona and the AP-7 international motorway. The site itself has a TECO terminal, which is the main goods rail centre in Tarragona.

306 hectares
25.2 million Euros investment
Phase three in development

Del Vallès Technology Park

The Parc Tecnològic del Vallès (del Vallès Technology Park) was built in the 80s close to the Autononous University of Barcelona (UAB), a pioneer in Spain and an example of how industrial infrastructure can drive technological development in the private sector.

18 hectares
Home exclusively to tech companies

Can Guitard Industrial Premises

The industrial park is located in Terrassa and has excellent road transport links. The Zona Franca owns 10 plots, each of which can be divided according the horizontal property system.

29,000 m2 area
10 units
Under development

Bellpuig Industrial Park

Located in the Pla d'Urgell district, this area is home to industrial, logistics and tertiary activities.

42 hectares
26 million Euros investment
Under development

Pla de Santa María Industrial Park

The municipality of Pla de Santa María is home to this industrial park, and the aim is to develop a new manufacturing area in the well-established industrial zone that connects Valls, Igualada and Manresa.

33 hectares
Under development
Urban projects, buildings for urban development
We play an important role in the promotion of Barcelona's real estate and are proud to have contributed buildings that drive research and development to the city and its surroundings.
These are buildings wholly managed by us. Specifically, we manage the commercial aspect by leasing offices as well as the overall maintenance of the buildings.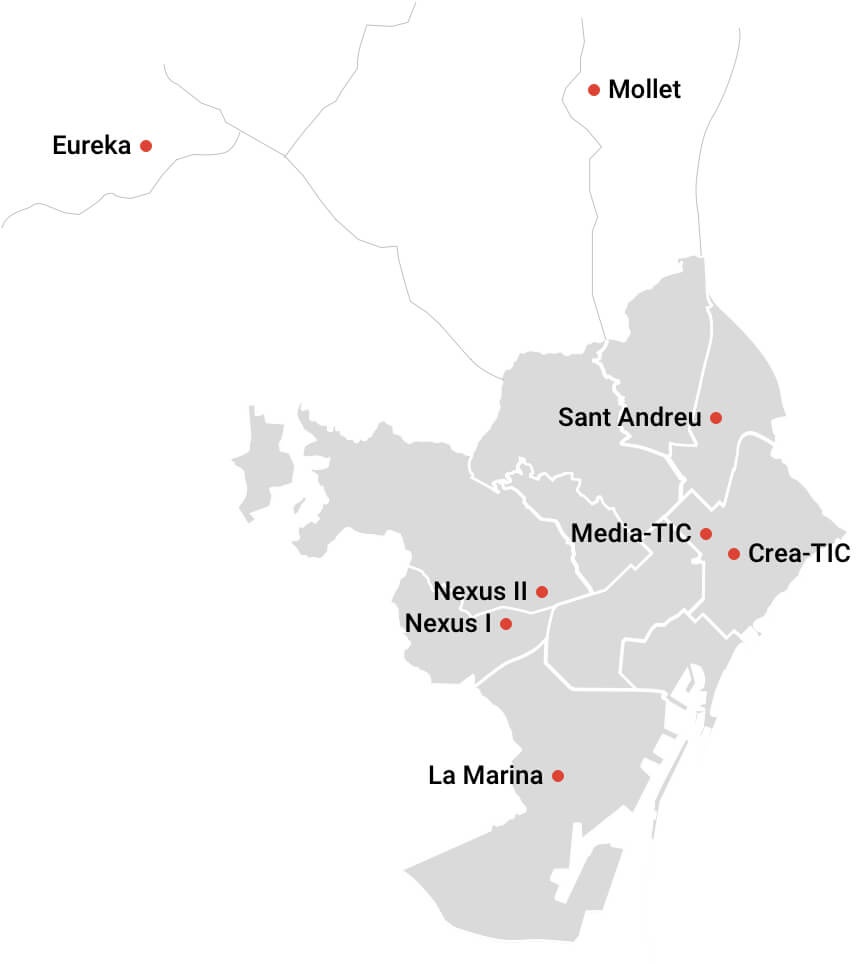 Buildings of high architectural quality

5

buildings for R+D and high-occupancy economy

3

new districts to update the urban fabric of Barcelona
Spaces
Assets in the old Sant Andreu barracks

Assets in La Marina district
As well as urban buildings, Zona Franca also manages Service Centres that facilitate tertiary activities in industrial areas. These are buildings with management shared between the Zona Franca and public bodies.
Spaces
El Pla Service Centre

El Pla de Sant Feliu de Llobregat Industrial Park.
Development part-owned by the Consortium (54%) and Sant Feliu de Llobregat Town Hall (46%).

Offices to rent.
Auditorium.

La Ferreria Service Centre

La Ferreria Industrial Park in Montcada i Reixac.
Development part-owned by the Consortium (56%) and Montcada i Reixac Town Hall (44%).
Events and international profile: 2019, the year Barcelona became the logistics world capital
For two decades, we have organised the leading trade fairs for the property, logistics and business sectors in Spain and the Mediterranean, which has provided us with specific event know-how in addition to raising the international profile of Barcelona, Catalonia and Spain
2019 was a year of major events
Barcelona acted as the business hub for international logistics with the organisation of a historic summit for the trade and logistics sector, with various events held simultaneously. In autumn, once again it hosted the unmissable date in the Spanish property calendar, Barcelona Meeting Point.
Events
Between 26 and 28 June, 2019

Salón Internacional de la Logística

The 21st edition of southern Europe's Leading Logistics, Transport, Intralogistics and Supply Chain trade fair took place between 26 and 28 June, with the Aragon as the guest autonomous community and His Majesty King Felipe in attendance at the SIL headline event, "La Nit de Logística (Night of Logistics)".

The most international event in our history, it brought together professionals from 79 different countries thanks to the simultaneous celebration of seven global events: the World Free Zones Congress, the ALACAT Congress, the International Congress of Authorized Economic Operators (OEAs), the MedaLogistics Summit and AFZA meeting, as well as the 22nd SIL International Congress and eDelivery Congress.

Networking activity at the Círculo Logístico, which saw short meetings between participating companies and logistics directors from sectors as diverse as food, FMCG, automotive, metallurgy, iron and steel, pharmaceuticals, healthcare, chemicals and textiles.

At this edition of the SIL Awards, sponsored by Grupo Fomento, the Best Innovation Award went to the intelligent robot by Mobile Industrial Robots. The SIL Award for Efficient Logistics and Tech Innovation was won by Mercadona, the SIL Award for Digitalisation by the SEAT supply chain, the prize for Sustainable Logistics by FORD SPAIN and, finally, Celsa Group took home the award for Circular Economy.

Companies: 650
International companies 40%
Conference participants 3.200
Speakers 220
Case studies 100
Logistics Circle 250

Between 26 and 28 June

eDelivery

The third edition of eDelivery Barcelona Expo & Congress, held between the 26 and 28 June, the International Delivery, Logistics and eCommerce Last Mile fair was another major event that has established its position as the meeting place for delivery, logistics and last mile as key critical aspects for the success of any eCommerce, omnichannel and/or multichannel business. Held in parallel with SIL 2019, the event featured industry leaders from logistics, operations, new technology, software, e-logistics solutions, handling systems, consulting, payment solutions, and legal and privacy services.

#TheRetailerClub received a positive reception in 2019, with companies such as Camper, IKEA, Bauhaus, Mercadona, Pepe Jeans, Condis, Caprabo, Viena, Oysho, Bodegas Torres, DeporVillage, Conforama, Camaloon, Fruugo, Promo Farma, Daba Nespresso, Refruiting, Pyrenées Andorra, Soy Todo Sin, Zooplus, Oteros, Koröshi, Krous, Pull & Bear, El Corte Inglés, Tendam, Com School, Limbix, Planeta Verd and Alice's Garden taking part.

The Startup Innovation Hub exhibition area increased its space by 30% in comparison with the previous year, giving start-ups the opportunity to present their creative solutions to companies from all over the world, as well as to investors and corporate ventures. In 2019, our first accelerator fair for the logistics sector, promoted by Zona Franca and La Salle Technova Barcelona, was a resounding success.

Edition: 3ª Expo&Congress
Companies: 50
Visitors: 4.000
Participants: 500
Sessions: 11
Case studies: 62
#TheRetailersClub: 93

2019

World Free Zone Conference

In 2019, the fifth edition of the event known as the Annual International Conference and Exhibition (AICE 2019) addressed the paradigm shift that globalisation and digitalisation are bringing to manufacturing and trade processes all over the world.

Organised for the first time by the World Free Zones Organization (World FZO) from 26 to 28 June, with the support of the Zona Franca Consortium, the event brought together hundreds of leaders from the main free zones around the world and international trade decision-makers.

Launched by the Finance Minister, Maria Jesús Montero, the event provided was a showcase of leadership, innovation and sustainability: one of the main conclusions to be drawn from the event was the continuous transformation of free zones into innovative hubs that promote economic activity in their regions and are evolving beyond their traditional roles.

Editions: 5º Annual International Conference & Exhibition
Companies: 50
Participants: 800
Speakers: 41
Sessions: 12

Between 26 and 28 June

InTrade Summit BCN

From 25 to 28 June, we brought together the logistics, customs and international trade sectors from Latin American, Europe and Mediterranean in Barcelona. The InTrade Summit provided an occasion to address the debate regarding the present and future of logistics and international trade as a forum for global networking among industry leaders from the world's top logistics and cargo operators.

Organised by the Zona Franca, various industry conferences were held under the event's umbrella, which resulted in the "Barcelona Declaration".

Logistics summit comprised of:
36th ALACAT Conference of Latin American Cargo Agents and Logistics Operators

Third International Congress of Authorised Economic Operators (OEAs)
17th MedaLogistics Summit with the 17th Logistics & Transport Medaforum and 12th Mediterranean Ports Forum
23rd Meeting of the Association of Free Zones of the Americas (AZFA)
Participants: 2.400
Speakers: 180

2019

Barcelona Meeting Point

BMP took place in October with the aim of laying the foundations to lead Mediterranean real estate into the future. The event provided a genuine forum for reflecting on how to tackle the sector's challenges, needs and new proposals.

The 2019 edition of this real estate fair was the most social to date, with the commitment to SDGs taking centre stage throughout the event. Another prominent theme was that of equal opportunities in a male-dominated industry, with the Women in Real Estate Spain event held for the second year running.

BMP held the Start-up Innovation Hub once more, with more than 40 start-ups from the sector presenting groundbreaking solutions and the 10 best participating in BMP's Accelerator Programme. Networking was another key strength of this fair, which is increasingly open to local residents.

23rd Barcelona Meeting Point International Property Fair
Participating companies: 265
International companies: 30%
Participating countries: 26
Speakers: 172
Conference sessions: 52
Shares in companies and institutions
The Barcelona Zona Franca Consortium plays an active role in various projects that aim to boost Barcelona's business capacity and make it ever more competitive.
Barcelona - Catalunya Centre Logistic

Public-private organisation whose principal objective is to develop the city and its logistics community into southern Europe and the Mediterranean's key platform for the provision of logistics services and to promote its international profile in a globalised economy.

Institut d'estudis regionals i metropolitans de Barcelona

The Consortium forms part of the Governing Board of Barcelona's Institut d'Estudis Regionals i Metropolitans, which leads research and assessments related to Barcelona and its metropolitan area. The Institute is a pioneer in the analysis of trends and the issues facing large cities.

Pla estratègic metropolità de Barcelona

The CZFB forms part of the governing bodies of the Barcelona's Pla Estratègic Metropolità (Strategic City Plan), which contributes to the development of new ideas and economic, social and institutional projects. The objective of the association is to discover opportunities and promote innovative courses of action.
The rich fabric of Barcelona's civil society is made up of numerous institutions, foundations and associations in which the Consortium plays an active role via their various governing bodies. Notable examples include:
El Consorci también impulsa empresas que desarrollan proyectos innovadores a través de la participación financiera en la sociedad:
BARCELONA MEETING POINT - FERIA INMOBILIARIA INTERNACIONAL

Share capital: 1,333.8600 Euros
Share: 100%
Organises industry events for the real estate and logistics sectors.

BARCELONA REGIONAL AGÈNCIA DE DESENVOLUPAMENT URBA, SA

Share capital: 1.53 million Euros
Share: 12.5%
An architecture and engineering consultancy, Barcelona Regional researches, drafts and manages projects for the city and metropolitan area.

IBERIA DESARROLLO BARCELONA, SL

Share capital: 6 million Euros
Share: 25%
Construction and operation of an aircraft maintenance hangar at El Prat airport.

PARC TECNOLÒGIC DEL VALLÈS, SA

Share capital: 6,93 million Euros
Share: 49,39 %
Manages the centre that is home to companies dedicated specifically to R+D.

BARCELONA STRATEGICAL URBAN SYSTEMS, SA

Share capital: 532.000 euros
Share: 25 %
Consultancy whose main objective is to export the Barcelona urban planning model to the international market.

BARCELONA EMPRÈN, SCR

Share capital: 3.82 million Euros
Share: 1,19 %
Barcelona Emprèn invests in innovative microenterprises. The support is focused on growth and development process. The priority sectors for investment are telecommunications, electronics, internet, computing, biotechnology and audiovisual content.

PROVIURE CZF, SL

Share capital: 860.000 euros
Share: 50 %
Constituted by the Consortium and Caixa Catalunya Proviure. Its objective is to build and manage a housing estate for rentals in Barcelona, aimed at young and elderly people.

PROVIURE CZF PARC D'HABITATGES, SL

Share capital: 3.52 million Euros
Share: 50 %
Promotion of housing aimed at young and elderly people.